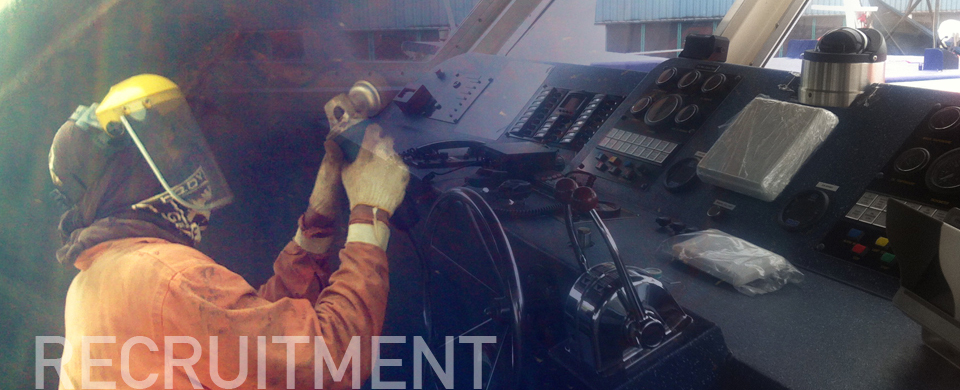 Recruitment
We are expanding and we are looking for candidates who are looking to join our forward looking company, committed to serving clients, bringing value and innovation in the solutions we provide.
Job Opportunities
Operations Manager

We are looking for an experienced Operations Manager to lead our expanding Operations Team.  He must be a good leader and is able to champion projects within the organisation.

Job Description

To lead our operations staff to provide safe and excellent execution and completion of project and to ensure Company's Standards.
Implement and propose company work regulations in the shipyard.
Instil awareness about the company's vision and goals as well as safety awareness while working in the shipyard.
Ensure that excellent services are provided to clients.
Manage day-to-day operations of the yard, including manpower allocation and transfer, protection and maintenance functions.
Close monitoring on all repairs and ongoing development in the yard.
Plan and monitor cost estimations and project schedules.
Allocate and determine yard requirements for future contracts.
Develop and implement advanced production practices.
Ensure departments are able to meet and maintain ISO standards.
Provide leadership, coaching and mentoring to department managers and other key employees.
Contribute to client liaison including the development and presentation of project plans and progress reports.

Requirements:

Minimum 8 years of relevant working experience in the marine industry
Possesses Shipyard Safety Instruction Course (SSIC) for Ship Repair Managers certification will be an advantage
Diploma in Engineering/ Naval Architecture/ or other relevant qualifications preferred.
Possesses excellent leadership and communication skills
Proficient in Microsoft office and familiarity with Projects software will be an added advantage
Ability to work under pressure and tight schedules
Competent in managing employee relationship

Shipyard Repair Manager

We are looking for an industrious manager with a passion for boats. The Manager must be self-motivated; a good team leader with a good listening ear, able to communicate and work well with people at all levels. Meticulous and good with managing projects within tight deadlines and resources, the Manager will work with high levels of integrity as well as genuine care and concern for staff member safety and well-being.

Job Description

To manage projects according to plans, to meet milestones within schedules and to ensure compliance to regulations and project specifications.
To liaise with and manage internal and external stakeholders to ensure smooth workflow.
Manage the work-to-permit system and ensure occupational health and safety, quality, environment and productivity standards are upheld.

Requirements:

Ship Repair Manager Certification is required
Diploma in Engineering is advantageous
Minimum 3 years experience in boat repair

Assistant Naval Architect / Engineer (Marine)

Job Description

To interpret, prepare and provide technical drawings

To work closely with the project team on technical issues
To liaise with Customer, Classification surveyor and Shipyards
Ad-hoc tasks relating to drafting as and when assigned
Project Management

Requirements:

NITEC/Higher NITEC/Diploma in Engineering or its equivalent. Degree/Diploma in Naval Architecture or its equivalent is an added advantage.
Preferably with experience in marine/offshore industry
Competent in using AutoCAD
Conversant in Ship's Rules and Regulations

Safety Supervisor

We are looking for an experienced yard Supervisor who will be a champion for safety at the workplace. The Supervisor will be a self-starter, able to assess risk and initiate safety programs, able to guide and see to the successful implementation and maintenance of these programs.

Job Description

Initiate and administer safety programs.
Facilitate & conduct meetings, training and risk assessments.
Plan and conduct safety inspections, accident and incident investigations.
Ensure quality of work is achieved and safety regulations are complied.
Conduct risk assessment to identify hazardous activities at the workplace for mitigation, with compliance to MOM's WSH requirements.
Overall planning and coordination of the plant security, safety, occupational health, environmental, fire safety and emergency response programs.

Requirements:

Work experience in a yard environment and any one of the following:

Certified as Confined Space Safety Assessor
Certified as Shipyard Hotwork Safety Assessor
Lifting Supervisor Certification
Shipyard Safety Instruction Course Certification

Assistant Sales Manager

Our business is expanding and we are looking for a sensible and resourceful individual who is looking for opportunities to grow with a company that has an outstanding reputation for being effective and reliable. Perceptive and a good team worker who is able to work with both external and internal stakeholders, the Asst Sales Manager is able and willing to persevere under all conditions to see that customers receive their full satisfaction.

Job Description

Responsible for account management and business development.
Provide efficient sales, technical and service support, clarification and collation of technical and marketing data.
Able to multi-task to assist in project and service coordination to achieve sales targets.

Requirements

Sales work experience in Marine Industry is advantageous
Diploma-holders are preferred

Accounts Assistant

Job Description

Assist in basic accounting duties such as data entry in Accounts Payable and Accounts Receivables, preparation of invoices and monthly statements of accounts.
Provide general administrative support to Accounts Dept.
Perform any other ad-hoc duties as requested.

Requirements

Diploma in Accountancy/ LCCI or equivalent qualifications.
Strong team player with good interpersonal and communication skills.
Able to both work well with others as well as independently.
Fast and efficient to effectively meet deadlines.

Aluminum Fitter/Welder

Job Description

Perform basic TIG welding, fitting and sheet metal/aluminium tasks in our Aluminium Boat Building Section.
Interpret technical data to ensure work quality to customer requirements.

Requirements:

2 – 3 years experience as fitter/welder
Welding Certificate from Classification Society is advantageous

General Worker

To maintain the general cleanliness of yard facilities, assists in boat building and boat repair sections.
Email your resume to hrd@kimseah.com.sg